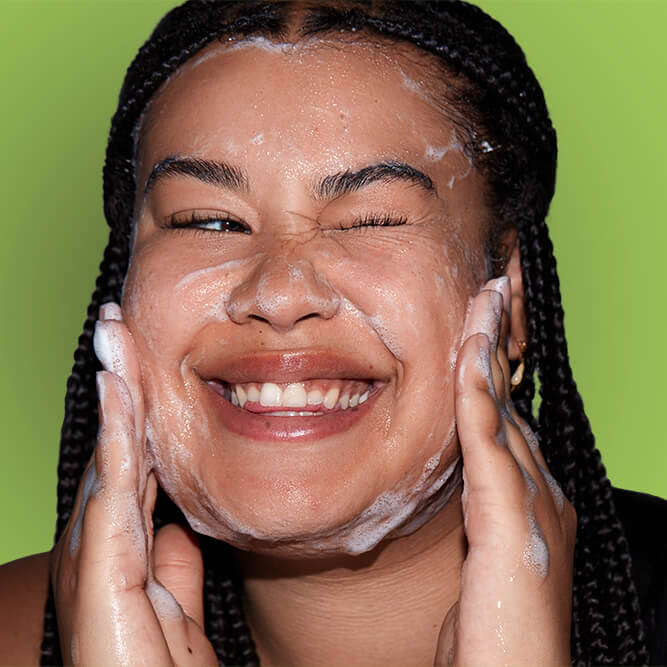 Dr. Pimple Popper's New Year's Skincare Resolutions
Most of us have a skincare goal: clearer skin, younger-looking skin, glowing skin…you name it. With 2023 right around the corner, we asked our founder, dermatologist Sandra Lee, MD (aka Dr. Pimple Popper) to share her New Year's skincare resolutions that are easy to start — and stick to.
Published:
3 minute read
Most of us have a skincare goal: clearer skin, younger-looking skin, glowing skin…you name it. And with a new year right around the corner, now seems as good a time as any to shift from a wouldn't-it-be-nice to a let's-do-this mindset. 
The perfect resolutions are not only worthwhile, but easy to start — and stick to. We asked our founder, Sandra Lee, MD (aka Dr. Pimple Popper) to share her most manageable  — and impactful — 2023 skincare resolutions.
#1 Get in the habit of wearing sunscreen daily
"Besides cleansing and moisturizing, there really is no better way to keep your skin looking younger, for longer, than using a broad-spectrum sunscreen every day," says Dr. Lee. That's because UV damage accumulates over time, leading to fine lines and wrinkles, dark spots, and even exacerbating acne.
There are a lot of reasons why people don't wear sunscreen on a regular basis, but building it into your routine isn't hard. "Even if you work inside all day, or it's cloudy out, or you have acne-prone skin, you still need to wear sunscreen," Dr. Lee explains. "My SLMD Dual Defender combines moisturizer and sunscreen in a non comedogenic formula, so it won't exacerbate acne," she says.
#2 Cleanse before bed, every night
Washing your face before you go to bed every night might seem like a chore, but it's nothing compared to trying to manage the consequences of skipping it over time. Oil, dead skin, cosmetics and pollutants that build up day after day can cause dull skin, acne breakouts, even signs of premature aging. 
"Cleansing every night is not only essential for your skin health," says Dr. Lee, "it's a great cue for your body that it's time to wind down for the day and prepare for sleep." This helps set your skin up for the overnight repair process. Dr. Lee favors formulas with beta hydroxy acid, like SLMD Salicylic Acid Cleanser. "When I feel like my pores need a little deep clean, I lather this cleanser on and leave it for a couple of minutes before rinsing it off."
#3 Look more vibrant and youthful
Who doesn't want to look a little more fresh-faced? While no skincare can turn back time (yet!), Dr. Lee says that a few dermatological ingredients can actually have an effect on the skin aging process. "Retinoids (like over-the-counter retinol) have been shown to accelerate cell turnover, slow down collagen breakdown and promote a more even-looking skin tone," Dr. Lee explains.
Alpha hydroxy acids like glycolic, lactic and mandelic acids break down the bonds that hold dead surface cells together. When they exfoliate these outer layers, they reveal newer (read: younger!) cells underneath. This also helps with the appearance of fine lines and dark spots.
For you commitment-phobes and forgetful types, the good news is that you don't necessarily have to use retinol and AHAs every day to see some benefits. Depending on your unique skin and goals, alternating products throughout the week (aka skin cycling) can give glowing results over time.
Try: SLMD Retinol Resurfacing Serum, AHA/BHA Swipes.
#4 Get your acne under control
If you've been trying to manage your acne with a hodgepodge of random products and some cute pimple stickers, it's time to graduate to a true dermatological solution. "I started SLMD with my Acne System because there wasn't another kit out there that included all of the essentials that could really treat acne," explains Dr. Lee.
Most people don't realize that all acne starts with clogged pores, and progresses to an inflammatory response. So it's crucial to use ingredients that treat both blackheads and whiteheads (like salicylic acid), as well as inflamed pimples (like benzoyl peroxide or sulfur). "My kit also contains retinol, which is essential for managing acne, and a moisturizer, to help balance and protect the skin barrier from the drying effects of acne treatments." 
It's easy to be impatient about getting rid of your acne — but no treatment works overnight. If you're using a routine like SLMD Acne System, Sensitive Skin Acne System, or Body Acne System, give it a few months to show results.
Dr. Lee's Last Word
I think it's great when people make skincare resolutions, but I'm all about forming a consistent skincare routine for life. It doesn't need to be complicated: my mantra is cleanse, treat, moisturize. Customize it for your skin's needs, and you'll never have to put pressure on yourself come January.
— Dr. Sandra Lee