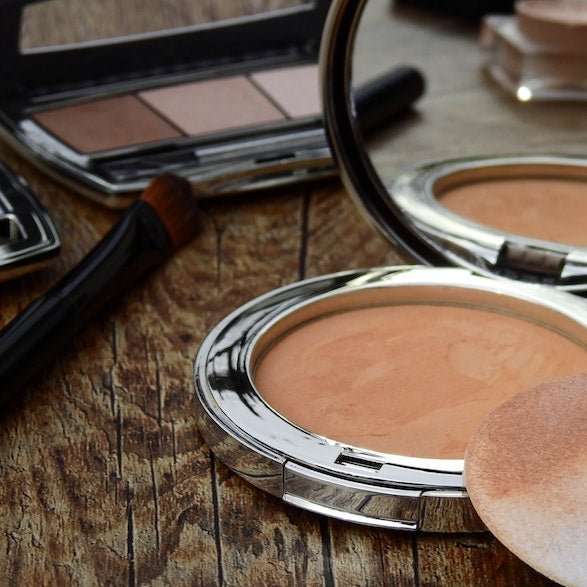 How To Reintroduce Makeup To Your Routine
Published:
3 minute read
If you're anything like us, you may have spent the past few months at home in a bun and pajamas. Working from home has brought its fair share of challenges, but it may have given you a much needed break from makeup. As the population gears up to resume some semblance of normalcy, your makeup bag will be calling out to you. We're here with some tips on how to reintroduce makeup to your skincare routine the RIGHT way!
Start Fresh
Your makeup should be applied to squeaky clean, fully prepped skin to avoid clogging your pores with bacteria. In the morning, use an exfoliating cleanser like SLMD's Salicylic Acid Cleanser, which is packed with Salicylic Acid, an anti-inflammatory that breaks up sebum and dead skin cells within pores, Allantoin, a natural conditioner to soothe skin, and Green Tea Extract to moisturize and prevent signs of aging. Once your face is clean and dry, use a moisturizer with SPF to protect and nourish your skin. SLMD Dual Defender is lightweight, oil-free and formulated with acne-prone skin in mind. It contains antioxidants like Vitamin C, Vitamin E and Green Tea Extract to shield skin from environmental stressors, in addition to Allantoin to hydrate skin and SPF to protect from UV rays. A moisturizer also provides a healthy, even base to apply makeup on top of.
Take It All Off
After wiping your makeup off, use an exfoliating cleanser like the one you used in the morning to break up sebum and dead skin cells to prevent breakouts from forming while you sleep. To rejuvenate skin overnight, use a nighttime serum with Retinol. Retinol encourages cell turnover to minimize fine lines and wrinkles, creating a more even base for your makeup. SLMD's Retinol Serum is formulated with Retinol and Vitamin A derivatives to boost collagen production and promote an even complexion when the sun comes up, so you'll have less to cover up with makeup!
Address The Cause
If you're wearing makeup everyday to cover stubborn dark spots or acne breakouts, invest some of that energy into addressing the problem permanently. Dark spots occur when the skin is producing excess melanin in response to UV rays or acne-related trauma. There's a wide variety of products to improve the appearance of dark spots, including spot treatments, serums, and masks. To narrow it down, look for products with a blend of potent active ingredients like retinol, glycolic acid, and salicylic acid to reduce the appearance of hyperpigmentation in slightly different ways. SLMD Dark Spot Fix is a lightweight gel formulated with kojic acid and salicylic acid to exfoliate and help provide protective antioxidants. 
For the pimples you're dying to dollop concealer on, try a spot treatment. For blackheads and whiteheads, use a Salicylic Acid-based spot treatment, like SLMD Salicylic Acid Spot Treatment. This clear formula can be applied easily using the roller ball and won't be seen and makeup!l Use a spot treatment with Benzoyl Peroxide like SLMD BP Acne Spot Treatment for red or inflamed pimples. Add a dollop to pimples overnight or when you're alone at home for a few minutes!
Like we mentioned earlier, Retinol is a great option to minimize the appearance of fine lines and wrinkles and maintain a clear complexion. It is the active ingredient in SLMD's Retinol Serum, which also contains Hyaluronic Acid to hydrate the skin and antioxidants like Vitamin C to brighten skin. 
To improve your skin's tone and texture, SLMD AHA/BHA Swipes combine Salicylic, Glycolic, and Lactic Acid to break up the dead skin cells and bacteria inside pores. This toner in a pad can be used after your cleanser to reveal a noticeable glow.
Choose Your Makeup Wisely
All makeup is not created equal. Heavy, occlusive foundations and powder clog pores, causing breakouts when mixed with bacteria and dead skin cells. Browse the aisles for concealers with acne-fighting ingredients like Salicylic Acid, which degunks pores. Try swapping your powder for a lightweight setting powder. 
Clean Your Brushes
A clean face is useless if your makeup brushes are filled with dirt and bacteria. You should be cleaning your brushes on a weekly basis... It may sound like a hassle but spending a few minutes cleaning is far better than breaking out because your skin was contaminated by your brushes!
If returning to normal means returning to foundation, try incorporating these easy steps to keep your skin glowing with or without makeup.