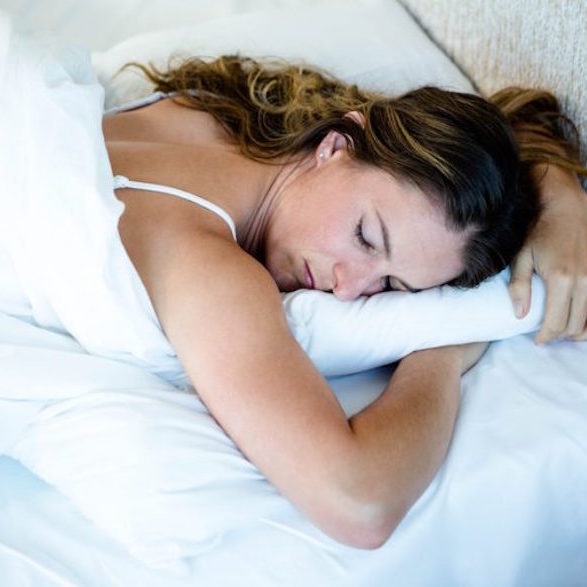 Is the Way You Sleep Making You Look Older?
Don't let anxiety over sleep wrinkles keep you up at night: try these tips to wake up bright-eyed and bushy-tailed.
Published:
2 minute read
It's no secret that how much sleep you get plays an important role in keeping your skin healthy and youthful. It's called beauty sleep for a reason: nighttime is when your cells repair and regenerate. But did you know that the way you sleep also matters?
Before your head hits the pillow later, take a look at these tips for optimizing your overnight routine.
Don't sleep on your face
Let's do the math: if you average eight hours of shuteye nightly, and you live eighty years, that's almost a quarter million hours spent sleeping. Stomach and side sleepers, take note — that's a lot of time with your face smooshed against your sheets.
Over time, that pressure and stress causes sleep wrinkles, which can develop not just on your face, but on places like your chest, too. What's more, your skin loses collagen and elastin as you age, which means more stretching — and less bouncing back — every morning (sorry).
We're not going to lie: training yourself to sleep on your back isn't always easy. Building a pillow nest around yourself can help, but it may take time. At the very least, start out on your back, and flip over if you find yourself on your stomach in the middle of the night.
Make smart skincare choices
You may not be able to control if you roll onto your side while you're sleeping, but you can put together a wrinkle-fighting skincare routine. The sooner, the better: the ideal time to start a well-aging regimen, says Dr. Lee, is before you start to see any signs of aging. Here are a few of her favorite ingredients to incorporate:
Switch to a silk pillowcase
If you just can't bear the thought of sleeping on your back for a full night, another option is to simply change your pillowcases. Silk has a lot of benefits — it won't pull at your skin the same way cotton does and it causes less friction to your hair. This decreases your chances of getting sleep lines…and you'll be able to preserve that blowout for one more day.
Get your full 8 hours
We're coming full circle here. Changing your sleep position, pillowcases, and skin care routine are all ways to mitigate the effects that snoozing on your face can have. But that doesn't give you a free pass to stay up until the crack of dawn. Getting enough sleep every night is crucial for your overall health — it's just a bonus that it will show up on your face, too. Sweet dreams!
Dr. Lee's Last Word
People always ask me what they can do to avoid wrinkles. My best advice is prevention…simple things like using sunscreen and retinol, along with wearing sunglasses and sleeping on your back, can make a big difference.
— Dr. Sandra Lee