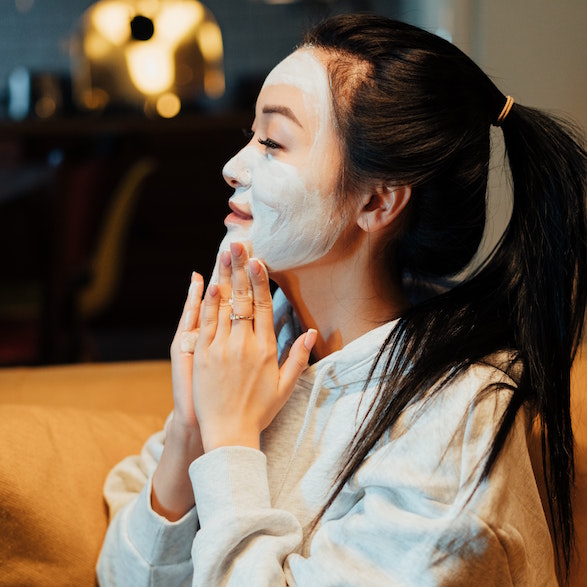 How Do Face Masks Work
Published:
2 minute read
Face masks… The broad term that has become synonymous with self care! May be easy to see them for the relaxing ritual they are, but harder to understand exactly how they work on the skin. We're here to breakdown your favorite pastime and the benefits that extend far past relaxation.
What is a face mask?
Like your daily cleanser, serums, and moisturizers, face masks are another vehicle to transport active ingredients to best nourish and improve your complexion. When you apply a mask to your skin and let it sit, it becomes "occlusive" meaning it binds to the skin and increases the likelihood of ingredients penetrating your epidermis (the skin's outer layer) and effectively exfoliating/hydrating. 
How to choose the right face mask?
There are a variety of face masks on the market made with different ingredients to target specific skin conditions. Laying out some tried and true combinations, below!
Acne + Minimizing Pores
Salicylic Acid: Chemically exfoliates the topmost layer of skin cells so dead skin cells cannot build-up and clog pores - preventing acne from forming and minimizing the appearance of pores. 
Sulfur:  Antibacterial ingredient that slows the growth of acne-causing bacteria and controls oil production to leave your skin feeling healthier and matte. 
Zinc Oxide: Multi-tasking mineral that absorbs excess oil and calms and soothes skin, reducing the appearance of redness.
All of these ingredients can be found in the new SLMD face mask created and validated by our own founder and board-certified dermatologist, Dr. Sandra Lee: Clear Out.
Fine Lines + Wrinkles
Vitamin C & E: Antioxidants that brighten skin, improve hydration, boost collagen protection, and protect your complexion from many environmental stressors.
Hyaluronic Acid: A humectant that can hold 1000x its weight in water - attracts and binds moisture to hydrate skin from the inside out.
Dark Spots + Pigmentation
Retinol: Vitamin A derivative that exfoliates and encourages skin cell turnover to refine pores, boost collagen to keep skin plump and improve skin tone/texture.  
Kojic Acid: A natural chemical that limits melanin product and brightens skin, by protecting from free radicals.
Irritation (Rosacea, Eczema, etc.)
Niacinamide: An anti-inflammatory vitamin that works to strengthen and restore the skin's barrier, helping to visibly improve look and feel.
Colloidal Oatmeal: Soothing, protective antioxidant known for providing quick relief.
Ceramides: Lipid molecules that keep skin the smoothest, softest, and strongest it can be. 
Now that you can pinpoint which ingredients are good for what, you can make an educated and confident decision regarding your face mask and skincare products! Pro-tip: if it is a clay or cream mask, take a warm, damp facial towel and let it sit on your skin to help remove the mask and ensure less shedding residue. Grab some tea or wine and give your skin that much needed TLC!