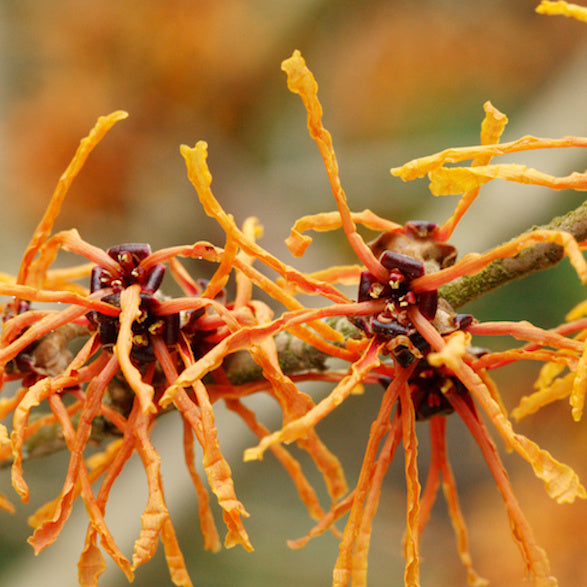 Ingredient Spotlight: Witch Hazel
Witch hazel is almost like a vacuum cleaner for our skin: It removes excess oil and clears out our pores, making it an obvious choice for preventing and treating acne. But did you know witch hazel also has tons of other skin benefits? For centuries, witch hazel has been used to clean cuts and scrapes,…
Published:
2 minute read
Witch hazel is almost like a vacuum cleaner for our skin: It removes excess oil and clears out our pores, making it an obvious choice for preventing and treating acne. But did you know witch hazel also has tons of other skin benefits? For centuries, witch hazel has been used to clean cuts and scrapes, because it is both antibacterial and has the ability to stop minor bleeding. Read on to learn even more about this skincare staple.

What is witch hazel?
It sounds strange, but this ingredient isn't straight out of Harry Potter. In fact, witch hazel comes from the leaves and bark of the North American Witch Hazel plant! They're distilled, then combined with water or alcohol to make the gentle astringent commonly used in skincare. This is also referred to as Hamamelis water.
Witch hazel's active ingredients are powerful polyphenols, including tannins. The purpose of tannins in the wild are to protect plants and help them grow, and witch hazel extract has the same effect on our skin. In other words, it's a powerful antibacterial agent and antioxidant that also contains loads of anti-aging flavonoids.
How does witch hazel work in skincare?
Witch hazel is a natural astringent, which means it causes blood vessels and pores to contract. This means that it helps make our pores appear smaller, and as a result, absorb less excess dirt and oil. You may have heard that witch hazel can be used as a treatment for bruises, hemorrhoids, and varicose veins, and this is because it has the ability to constrict the blood vessels.
Those tannins we mentioned earlier? They also have the power to reduce swelling and calm inflammation. In fact, witch hazel is a good medicine cabinet staple that can reduce under-eye puffiness and bags. As an anti-inflammatory, witch hazel also soothes razor burn and itching (especially from bug bites and poison ivy!).
What forms does witch hazel come in?
Witch hazel is most commonly found as the clear liquid Hamamelis water, but it's also a key ingredient in many ointments, creams, and salves. The liquid form is usually applied to the skin with a cotton ball.
Who benefits from witch hazel in skincare?
Witch hazel has a lot to brag about, which means it's great for a wide range of skin types. Because of its abundant flavonoids, it's great on aging skin — these antioxidants protect the skin from damage from free radicals and UV exposure over time, just like they do for the witch hazel plant.
Witch hazel is perhaps best known as an acne treatment… and for good reason! It kills acne-causing bacteria while removing excess oil and calming inflammation. The additional anti-aging benefits make it a good choice for treating acne. Use it all over for body acne, or as a spot treatment.
If you have dry skin, opt for a mixture without alcohol, which can dry out the skin. You may also want to avoid witch hazel if you suffer from rosacea because it can be irritating to the skin.
Want to try out a skincare product with witch hazel? Consider the SLMD Salicylic Acid Cleanser, which has eucalyptus and witch hazel to calm inflammation and treat acne!