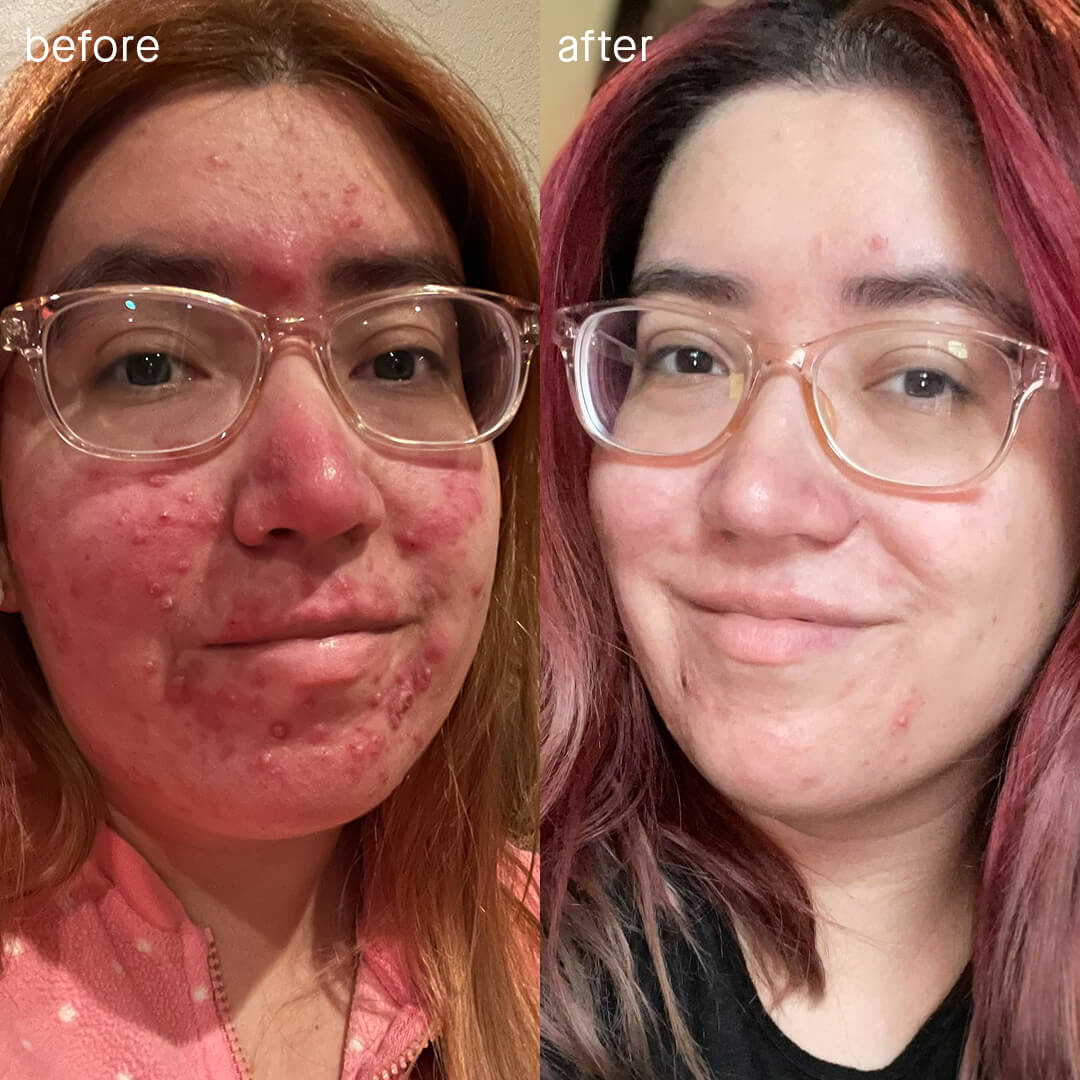 Real Results: Susana's Acne Journey
The inspiring, real results sent to us by Susana, a young woman who used our Acne System to transform her skin.
Published:
3 minute read
Sandra Lee, MD (aka Dr. Pimple Popper) started SLMD with a very clear purpose: to provide dermatologist-quality products to everyone, to treat and manage some of the most common skin conditions. Which makes the mission of SLMD simple: develop skincare that actually works.
We love seeing real results — because our success is your success. So when SLMD user Susana Madrigal reached out to us through social media, we couldn't wait to share her inspiring story.
Actual, unretouched photos of SLMD Acne System user
Susana's acne journey
How has having acne affected your life?
Acne did not begin to affect my life until my early 20s. Throughout my teens I had clear skin, but ever since I spent a semester abroad in London during my undergraduate years, my face began to flare up with acne. This completely shattered my self-esteem. I went from wearing minimal makeup to having to cake my face in order to hide the redness, spots, blackheads, and cystic acne. It made it really hard for me to love myself.
What acne treatments did you try?
I tried so many treatments to cure my acne. I tried subscription plans such as Curology, to over the counter products such as Clean and Clear. Name the product, and I most likely tried it. I was so desperate to treat my acne that I spent hundreds of dollars to find products that would help, but none did. I even avoided wearing makeup for almost 2 years to see if this cleared up my acne, but it did not. Even though I had a nighttime and daytime skin regime, nothing was helping my skin and my face was getting progressively worse.
How did you discover SLMD to treat your acne?
I have been a longtime follower of Dr. Sandra Lee. I began watching her YouTube videos in 2017, and have been watching them since. I knew for a while that she released a skincare line, but I was skeptical about trying it. I had tried so many different products in the past. What made this new product special?
However, I considered trying it as I had tried almost everything else, and I had nothing to lose. When I finally picked up my starter kit from Target which included the Salicylic Acid Cleanser, BP Lotion, Retinol Serum, and Facial Moisturizer, I was ready to risk it all. The instructions were very clear: in the morning you use the cleanser, BP lotion, and the moisturizer and in the evenings the cleanser, retinol serum, and the facial moisturizer. It was an extremely simple and easy routine, and it did not interfere with my time at all. 
How has your skin changed since starting an SLMD acne routine?
I began my journey in January 2021 and by April 2021, there was a significant change in my acne. My cystic acne was disappearing, my spots were becoming more scarce, and the blackheads began to disappear. Over time, these products cleared up my acne completely and I now religiously use the Salicylic Acid Spot Treatment when I feel any spots threatening to appear.
My skin has changed so much that now I rarely get spots. When I do get spots, I use the spot treatment plus a pimple patch to clear the spot in a day or two. This has significantly increased my self-esteem, and I rarely even wear face makeup now except for my eyeliner and eyeshadow.  I no longer need to cake my face to hide my imperfections, and I'm happy to show off my great skin again. I feel more empowered now that my face has cleared, and it has helped me educate others in skin treatment.
What advice would you give someone looking to treat their acne?
My one piece of advice to anyone struggling with acne is this: don't layer your face with different products. Instead keep your face cleansing regime to 3 to 4 products at one time to avoid your face from having an extreme reaction. I highly recommend they try SLMD because I have never had this much success with one brand, and compared to other higher end brands, the price is not too steep either.
One last note: please be kind to yourself and others.  You are your own worst enemy, and remember to treat people with kindness.