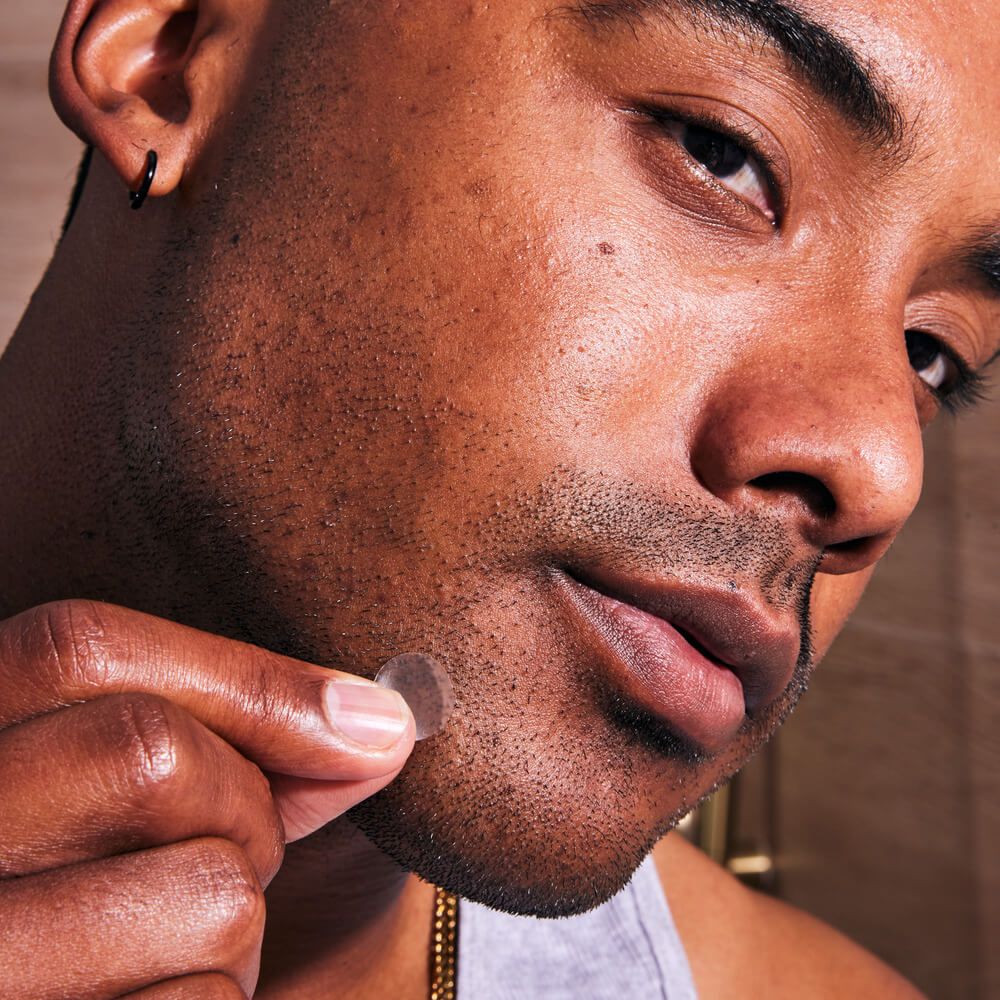 Can You Wear Acne Patches in Public? Dr. Pimple Popper Weighs In
Find out her expert opinion on treating your acne when you're out and about.
Published:
2 minute read
Check TikTok if you need to, but we're here to report: sporting acne stickers in public is officially a thing. At least, for the celebrity set: the likes of Justin and Hailey Bieber, Emma Stone, and Millie Bobby Brown have all been photographed embracing this latest acne treatment trend.
But what about us "regular" folk…is it cool to dash to Trader Joe's or show up to girls' night with your pimple patches on? What about wearing one on a first date, or while giving a work presentation?
To check the pulse, we of course consulted the acne expert, Sandra Lee, MD (aka Dr. Pimple Popper) to see where she stands on wearing pimple patches out in public.
First off: how do pimple patches work?
Let's start with why you even need acne patches on your radar. If you're new to the world of "zit stickers," be sure to check out this guide from Dr. Pimple Popper that covers everything you need to know. Meantime, here's an overview of how they work.
Acne patches are pieces of adhesive film designed to protect and heal pimples. They come in two main varieties:
Hydrocolloid: thicker and gel-filled to absorb fluid and pus
Non-hydrocolloid: thinner, sometimes absorbent, and designed to be more discreet
"Both hydrocolloid and non-hydrocolloid acne patches can contain active ingredients — like salicylic acid or benzoyl peroxide — to help shrink the pimple," says Dr. Lee. "They're also very effective for keeping your fingers away, which will promote healing."
Try: SLMD Spot Check, ultra-thin, nearly invisible patches formulated with salicylic acid.
When did people start wearing acne stickers in public?
According to Dr. Lee, this trend isn't exactly new — social media started championing acne positivity years ago — but it's been gaining momentum since the pandemic. "Maskne was no joke," she says. "When people started getting acne during quarantine, they were using spot treatment during the day, since they were stuck at home or wearing a mask anyway."
More casual attitudes — spurred in part by so many Zoom meetings — started blurring lines between what was considered public versus private. Acne care was no exception: suddenly, many people seemed to stop caring so much about keeping their skin flaws secret.
Skincare junkies know that wearing pimple patches in public goes back even further — to the 2010s in South Korea, where hydrocolloid stickers were normalized early on, as part of a well-rounded acne routine. When K-beauty exploded globally, acne patches came along for the ride.
Is it OK to wear pimple patches in public?
You can probably guess where we stand: it's perfectly acceptable to wear acne treatment patches out in public. Acne is the most common skin condition in the world — there's not only no shame in treating pimples, it's a sign you're skin savvy. After all, pimple patches have a protective effect against both prying fingers and environmental pollutants, so it only makes sense to safeguard your skin from those free radicals as it heals.
Dr. Lee says she's noticed another positive impact from the pimple patch trend: helping to remove the stigma of having acne in the first place. "Anytime people feel empowered to take control of their skin health, that's a win," she says. "Acne patches can be a sign of solidarity…a way of saying 'Acne is human, and we can do something about it.'"
Dr. Lee's Last Word
I'm all for people rocking acne patches when they're out and about," says Dr. Lee. "In fact, I've been known to head to the grocery store with one of my Spot Check patches on…I love them because they're so thin and they have a matte finish so you can almost not see them.
— Dr. Sandra Lee