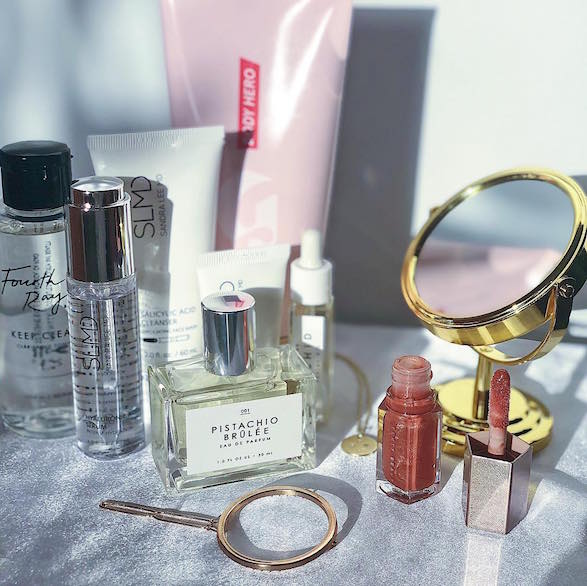 How To Get That Glass Skin Everyone Is Talking About
Published:
2 minute read
If you're a TikTok junkie like we are, you're probably familiar with the glass skin trend. Glass skin is exactly what it sounds like — healthy, hydrated skin as smooth and poreless as glass. As you can probably guess, this is a difficult feat that's easier to scroll by than achieve, so we asked Dr. Sandra Lee for her best advice to get and maintain glass skin!
Cleanse with Salicylic Acid
Cleansing and exfoliating is the best way to ward off blemishes and outbreaks. Dr. Lee recommends washing your face right when you wake up to cleanse your skin of any dirt, bacteria or sweat it accumulated overnight, right before you apply makeup to make sure your foundation doesn't mix with bacteria inside your pores, and right before you go to bed! Use a gentle exfoliating cleanser that won't leave your skin dry or stripped. Our favorite? SLMD's Salicylic Acid Cleanser, formulated with Salicylic Acid to fight acne and inflammation, Allantoin to soften and soothe skin, and Green Tea Extract to prevent signs of aging and regulate sebum. If you have consistently packed days, consider keeping SLMD AHA/BHA Swipes in your purse. These pre-loaded pads contain Salicylic Acid, Glycolic Acid and Lactic Acid to exfoliate clogged pores and prevent breakouts. 
Hydrate with Hyaluronic Acid
The real key to glass skin is moisture. That's why Dr. Lee's biggest advice to realize your glass skin goals is Hyaluronic Acid (HA). Capable of holding 1,000 times its weight in water, this acid provides intense hydration to keep skin supple and glowing.
When your skin receives water, it releases and expands, plumping your complexion for that dewy glow. Hyaluronic Acid is also unique in that the skin stops retaining it when it becomes too moisturized, preventing overhydration.  
Dr. Lee suggests applying SLMD Hyaluronic Acid Serum after cleansing and before applying your foundation. This serum's formula is oil-based and capable of deeply penetrating the skin. It contains dehydrated Hyaluronic Acid spheres suspended in Squalane, another oil-based moisturizer that acts as a natural antioxidant. Its emollient properties allow it to squeeze into spaces between skin cells to seal in moisture.
Brighten and Maintain with a Moisturizer
Achieving that dewy look is only half the battle; you also have to protect the skin against any fine lines, dark spots or blemishes that can threaten it. Applying a lightweight moisturizer after your Hyaluronic Acid will strengthen and nourish the skin. SLMD Facial Moisturizer also contains Vitamin C, a powerful antioxidant to brighten your complexion, in addition to Amino Acids for even skin texture. Every time you leave the house or are exposed to any form of UV rays (even through clothes and windows), you should be applying SPF every two hours. SLMD Dual Defender SPF 30 can supplement Hyaluronic Acid in moisturizing your skin and also contains broad spectrum sunscreen to protect from UVA and UVB rays. 
Finish your Look with a Lip Gloss
To top off your dewy, hydrated complexion, add a gloss to your lips! Try using a dollop of SLMD's Hyaluronic Acid Serum or Aquaphor on your lips for the ultimate glass skin look.
If you want to make your glass skin dreams a reality, our advice is consistent use of Hyaluronic Acid to plump, hydrate and smooth your skin. For best results, keep a clean palette for HA to sink into and protect your skin with moisturizer so HA can safely do its thing underneath!