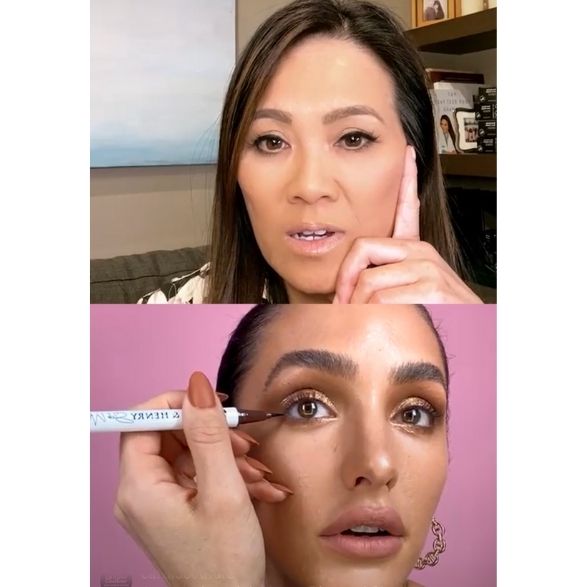 How To Prep Your Skin For The Best Makeup
Published:
2 minute read
The holidays may look a little different this year and most likely, you're not applying makeup that will be showcased to a crowd. Playing with makeup for select family and friends, or even yourself can be a nice pick me up, though. Recently, Dr. Sandra Lee went live with her celebrity makeup artist, Ash K. Holm, and went over a holiday makeup tutorial and the steps you should take to prep for it. Breaking down details below!
Before Applying Makeup:
You want to prep your skin making sure it is super clean and like a nice canvas. Salicylic Acid is a great BHA that is able to crystallize and dive deep into pores, clearing away any impurities, keeping pores unclogged, and therefore minimizing the appearance of them!
SLMD Product Recommendation: Salicylic Acid Cleanser
After cleansing, a toner product is good for improving the texture and appearance of your skin. Glycolic Acid, Salicylic Acid, and Lactic Acid are all gentle, but effective exfoliants to incorporate into your routine.
SLMD Product Recommendation: AHA/BHA Swipes
If a blackhead or whitehead pops up - a clear rollerball spot treatment is your best bet for being proactive in treating that problem spot and having a light enough texture that can handle makeup over it.
SLMD Product Recommendation: Salicylic Acid Spot Treatment
Use a lightweight moisturizer as a primer to ensure that your skin is hydrated and won't be problematic when makeup is applied on top of it (flaky dry skin + foundation is not a match made in heaven!)
SLMD Product Recommendation: Facial Moisturizer or Dual Defender SPF 30
Ash K. Holm's Makeup Tricks:
Start with eye makeup first so there is more room to mess up and you won't be damaging any work done on the rest of your face!
Always tap your eyeshadow makeup brush so there is no fallout. 
Have a clean eyeshadow brush handy that you can use for blending and softening up the edges of your eyeshadow. 
Try your best to choose a foundation that matches your skin tone and be mindful of your face matching the color of your skin below on the neck so your look is cohesive.
Look at the tones in your skin and use that to make a decision regarding your foundation shade. If you have red skin, know that olive tones will cancel that redness out!
A Few Of Her Favorite Makeup Products:
Armani Beauty Luminous Silk Concealer
Dose Of Colors Powder Brush
Sigma Essentials Palette
Pat McGrath Lip Liner (uses as a lipstick)
Buxom Extrovert Mascara
Lorac Tanlines Eyeshadow