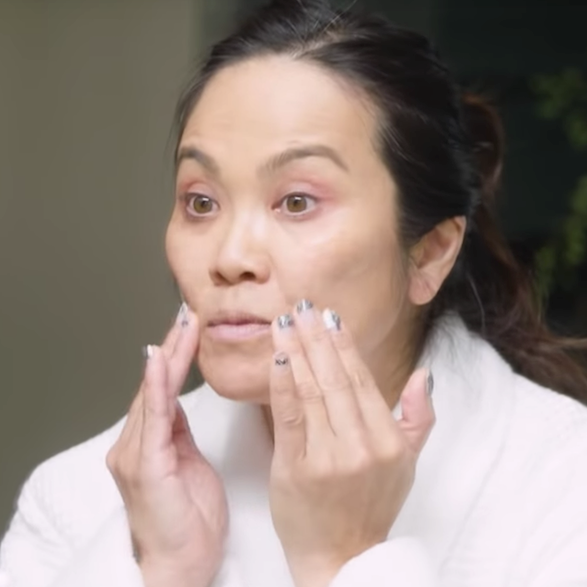 Dr. Pimple Popper's Skincare Routine Revealed
America's favorite dermatologist takes us inside her (surprisingly simple!) nightly regimen.
Published:
3 minute read
Ever wonder how the founder of SLMD Skincare, Dr. Sandra Lee (aka Dr. Pimple Popper), takes care of her own skin? As a dermatologist with access to the latest innovations, you might expect her to have an extensive routine. But Dr. Lee keeps it pretty minimal and emphasizes the importance of knowing her own skin type: dry and sensitive.
Read on to discover which key products she swears by to keep her skin healthy and glowing.
Step 1: Remove makeup
If she's dolled up and had been wearing eyelashes that day, Dr. Lee gently peels those off first.
Then she uses an oil makeup remover she's been loyal to since she was a teenager — Bi-Facil Eye Makeup Remover by Lancôme, with her favorite gentle cotton pads that are "like kleenex with a pad in it" to remove her mascara and eyeliner.
Dr. Lee notes that she doesn't rub — just dabs— her skin, because her skin is on the sensitive side and is more prone to getting rashes and irritation — which can eventually lead to wrinkles. She's also cautious when it comes to using washcloths, as they can be too harsh on skin and create micro-tears.
Step 2: Cleanse
When it comes to washing her face, Dr. Lee alternates between an exfoliating product, her SLMD Salicylic Acid Cleanser, and a very hydrating one, CeraVe's Hydrating Facial Cleanser.
One of her top skin hacks is leaving the Salicylic Acid Cleanser on for a couple of minutes — like while she's brushing her teeth — so that the beta hydroxy acid penetrates deeply to better unclog pores. Salicylic acid is one of her favorite ingredients because "it's an exfoliant; it's going to get rid of those dry, dead skin cells on the surface of your skin...It's also going to help your skin look more radiant and prevent blackheads from forming."
Does Dr. Lee use cold or hot water? "You're getting rid of moisture, so you don't want to go really hot and you don't want to go really cold. You don't want to shock your skin. Lukewarm water is the best!"
After cleansing, she pats her face dry with a towel — gently.
Step 3: Moisturize
Next, Dr. Lee applies SLMD Hyaluronic Acid Serum. "When your skin is still moist, that is the prime time to moisturize your skin because if your skin is wet out in the air, the moisture evaporates and the air pulls that moisture out of your skin and you get drier. When you put [hyaluronic acid] on your skin, it's really going to seal in that moisture and minimize what we call transepidermal water loss."
While that moisture sneaks in, she applies Secret deodorant. Dr. Lee's hot tip: "Deodorant is best applied at night and is most effective at night because you're putting it on when your sweat glands are the most dormant."
Step 4: Retinol
After moisturizing, Dr. Lee applies a retinoid (SLMD Retinol Resurfacing Serum), which is key to fighting signs of aging and minimizing fine lines and wrinkles. Typically, retinoids are applied before moisturizer — but if your skin is dry or sensitive (like Dr. Lee's), you can layer moisturizer on top of retinol to help reduce potential irritation.
Step 5: Ointment
For extra moisture, Dr. Lee applies CeraVe's Healing Ointment around her lips and her eyes.
This is where her skin tends to be extra dry. Warning: For some, using thick product around the eyes can promote milia (those tiny white bumps that are tough to get rid of).
Step 6: Spot treat
If she encounters a pimple (yes, Dr. Pimple Popper gets them too!), Dr. Lee uses SLMD BP Acne Spot Treatment to kill bacteria and help it heal faster.
"Most of us women get hormonal acne. Usually for that sort of thing, I'm going to put a benzoyl peroxide treatment on the area… It works in two ways: it's going to help destroy bacteria that's thriving in that area and also it really keeps your hands off the area."
Because Dr. Lee is a board certified dermatologist, if she encounters a pimple that's deeper under the skin, she will inject it with a cortisol shot. How can you get that kind of treatment? "If you have a dermatologist that you see, you can potentially [ask them to] give you a shot of low-potency cortisol in the area and it gets rid of the zit within 24 hours for a prom or wedding."
Dr. Lee's product breakdown: