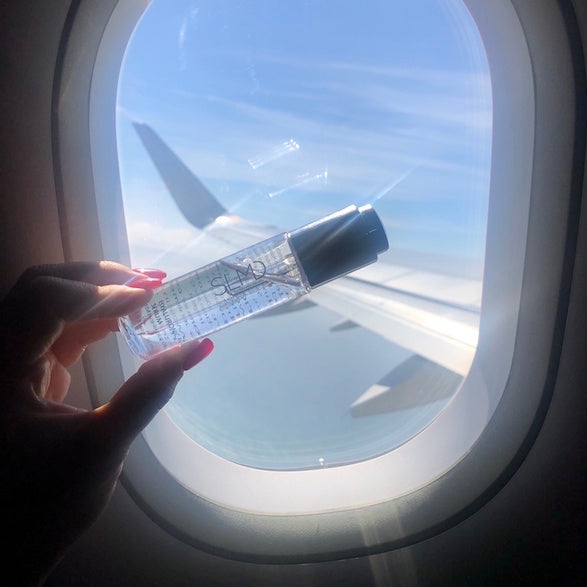 Dr. Pimple Popper's Best Travel Skincare Tips
The best products to pack along to stay fresh-faced away from home, according to Dr. Sandra Lee.
Published:
5 minute read
Whether you're traveling for work or fun, during the holiday season or the height of summer, your skin doesn't take time off. But prepping your travel toiletries doesn't have to be tedious: keeping your skin looking great away from home is easy, if you know a few tricks.
Here, we've got just the ticket: ten tips from Sandra Lee, MD (aka Dr. Pimple Popper) that will help keep you glowing, all vacation long.
#1 Stick to your usual routine
If you've found a skincare routine that works, staying consistent both at home and when traveling is the best thing you can do. Trying out travel versions of the latest trendy product sounds tempting, but sticking with what your skin's used to is a safer bet — especially if you're treating a skin condition like acne. After all, the last thing you want on vacation is a skincare setback, or adverse reaction.
Try: SLMD Acne System — it's just 3 steps, and TSA compliant
#2 Carry on your products if possible
These days, many skincare companies make smaller, travel-friendly sizes of their top selling products. Which is good news, since you can carry your faves on the plane with you without having to worry they'll be snagged by security. While it may seem like an overabundance of caution, anyone who's ever dealt with an unexpected layover, or (gasp!) lost luggage understands the value of keeping your skincare essentials close at hand.
Try: travel-friendly SLMD favorites like Salicylic Acid Cleanser, Dual Defender, Sensitive Skin Acne System
#3 Anticipate changes to your skin
Anytime you're changing your environment — like traveling to the tropics during wintertime, for example — your skin is going to have a little freak out. Heat and humidity can amp up oil production and exacerbate breakouts, while cold, dry air can dehydrate skin, leading to eczema or psoriasis flares. Anticipating these issues ahead of time will help you decide what products to pack, and how to cope with any hiccups (as always, be kind to your skin).
Try: depending on your skin's needs, SLMD Hyaluronic Acid Serum boosts moisture levels, while AHA/BHA Swipes help eliminate excess oil.
#4 Prevent skin from over drying
Traveling to a drier climate can zap moisture and stress your skin. And if you're flying, all that recycled air can also dry out your skin — even if your skin is normal or oily. This can lead to the double whammy of flaky skin that's also breaking out. It can be tricky to find the balance between layering on too much moisturizer and over-applying treatment products.
Your best bet is to stick closely to your regular routine, but be mindful about moisturizing. If you have dry skin, moisturize more often; if your skin is oily, try blotting papers, and use an exfoliating treatment to keep pores clear — but don't forget to layer on a lightweight moisturizer afterwards.
Try: SLMD Facial Moisturizer or Hyaluronic Acid Moisturizer — both formulated for all skin types, including oily/acne-prone.
#5 Always pack your spot treatments
New climate, new surroundings, new schedule, new food — sometimes despite our best efforts, a breakout is just bound to happen when we're away from home. Packing a couple of spot treatments — one with salicylic acid for blackheads and whiteheads, one with benzoyl peroxide for inflammatory pimples — will save you from having to "dab on toothpaste" or any of those other questionable skincare hacks. And as always, don't pick or pop, unless your idea of vacation souvenirs includes post-pimple dark marks (aka post-inflammatory hyperpigmentation).
Try: SLMD Salicylic Acid Spot Treatment, BP Acne Spot Treatment, Salicylic Acid Pimple Patches are all travel-friendly and discreet. Dab on Dark Spot Fix to fade any post-pimple dark marks.
#6 Don't skip the sunscreen
Even if it's cold and gray outside, and you think you don't have to…wear sunscreen! Wherever you're headed, whatever the weather, wearing SPF daily is a must if you're trying to keep your skin looking and feeling its best. Did you know: UVA rays are able to penetrate car and airplane windows, too. Dr. Lee recommends choosing a broad spectrum moisturizer and sunscreen in one.
Try: SLMD Dual Defender SPF 30
#7 Take a makeup break
Traveling (especially on an airplane) is an ideal time to go makeup free — or at least to wear as little makeup as you can tolerate. Heavy cosmetics can clog your pores, trapping both dead skin cells and all of the environmental pollutants you encounter while traveling (yuck). This gets compounded if you're wearing a mask (hello, plane maskne!). If you must wear makeup, keep it light, and look for products that don't contain comedogenic oils, waxes, preservatives and fragrance.
#8 Catch some zzz's when you can
Despite being away from home, do your best to get a good night's sleep, or plan to take a nap (probably more realistic). This allows your body and its largest organ, the skin, time to rest and restore. Overnight is when your skin heals and regenerates itself — so it's important that you're sticking to your nightly routine. Nighttime is also primetime to use retinol, which supports cell turnover.
Try: SLMD Retinol Resurfacing Serum comes in a travel-friendly size
#9 Hydrate, hydrate, hydrate
Excess oil is often the cause of breakouts, but if skin gets overly dry, it can actually compensate by producing more oil. If you're spending time above 30,000 feet, this can ring especially true — the recycled air around you can be seriously lacking in humidity. Drink plenty of water on the plane, and use a hydrating mist or serum before and during the flight. If you're concerned about frequent bathroom trips, try munching on water-rich fruits and veggies like grapes, celery, and cucumbers.
Try: SLMD Hyaluronic Acid Serum, which also works great on cuticles during a flight
#10 Take a deep breath
Can you meditate your acne away? Not exactly: but taking a minute to slow down might help. Acne is very sensitive to a variety of hormones, which trigger the sebaceous glands to produce more oil than necessary. The stress hormone cortisol, as well as insulin (released when we eat processed carbs, aka vacation junk food) have been shown to increase breakouts.
Keeping stress triggers low can't hurt, which of course is easier said than done while traveling (especially with family). But if you feel like you need a blissed-out retreat to unwind and de-stress, even taking two minutes for some deep inhales and exhales can go a long way.
Dr. Lee's Last Word
As much fun as traveling is, anytime we're changing our habits or our environment, we can see an impact on our skin. The best thing you can do is to stick to your skincare routine, and make healthy(ish) choices — but don't forget to let loose and have fun. A vacation pimple or two is not the end of the world!
— Dr. Sandra Lee